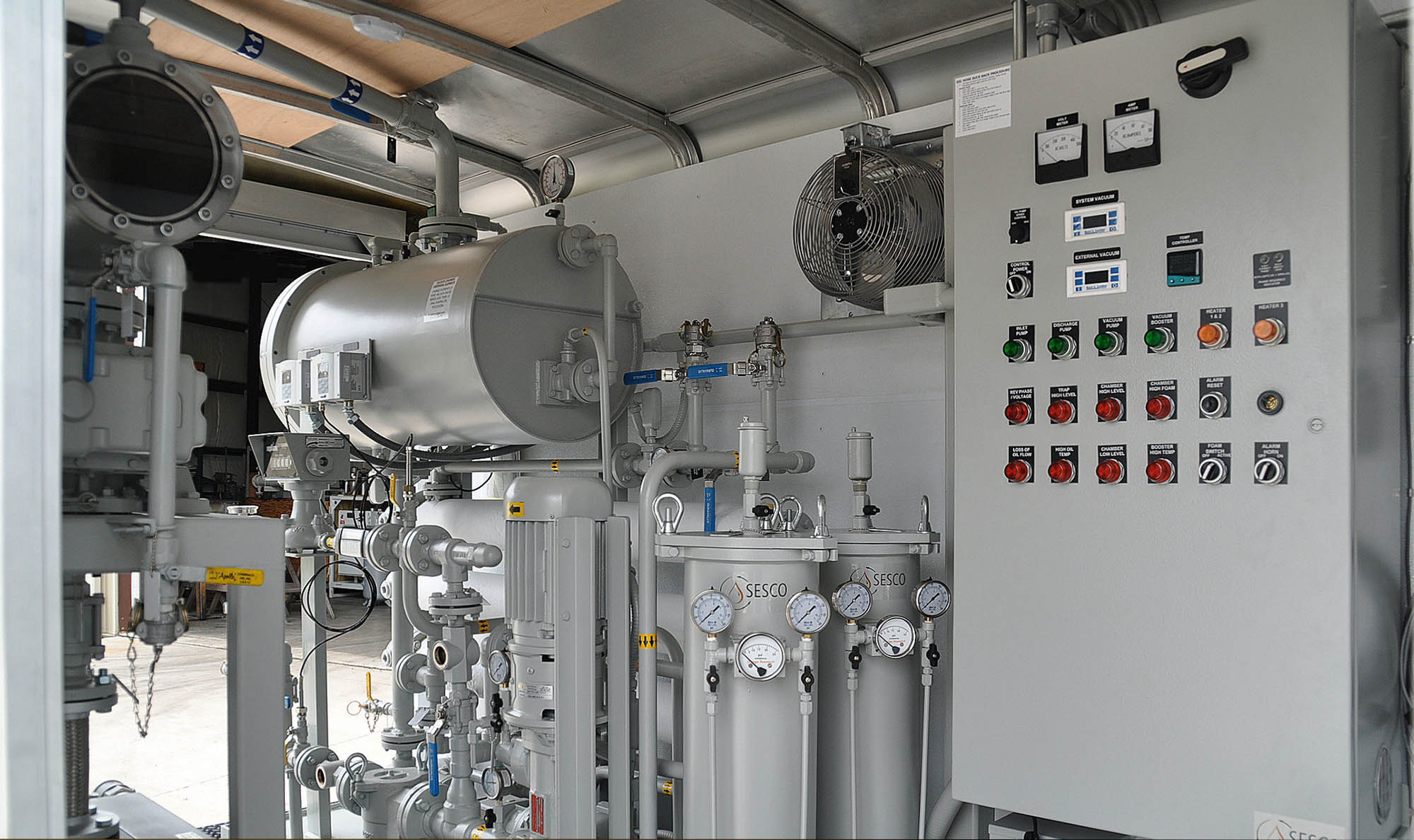 SES320-600C Insulating Oil Purifier
This compact, mobile 600 GPH system prepares mineral and ester-based insulating fluids for transformer service
This compact, mobile insulating oil conditioning system is designed for single pass conditioning of new and in service (Group I & II) insulating fluids, increasing voltage values (dielectric strength) by removing dissolved water, dissolved gas, and solid matter contamination. The SES320-600C includes vacuum dry out capabilities and can be used to vacuum filling.
SES320-600C Highlights
Condition Mineral & Natural Ester Fluids
Single Pass Processing
10GPM/600GPH/2280 LPH
64 Kw Electric Heating
450 Cfm Vacuum System
Transformer Evacuation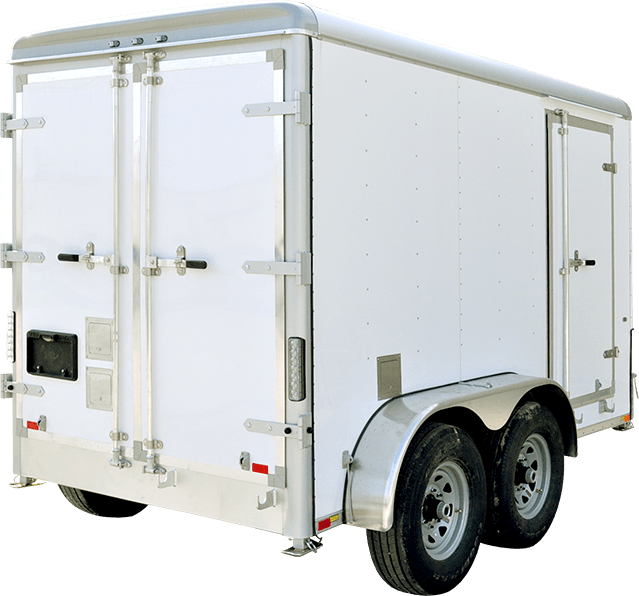 Efficient Oil & Transformer Processing
The SES320-600C was engineered to provide a convenient, mid-sized oil conditioning package.
The SES320-600C cargo trailer-mounted package is small and light enough to be easily towed, yet large enough to store hoses, supplies and add-on accessories.
Easy to Operate and Maintain
Automatic temperature, level, foam, and re-circulation control provide trouble-free, simple operation. Routine maintenance is simple with open clear access to all critical components.
The mobile SES320-600C is targeted for small to medium size projects but has sufficient flow rate and heat and vacuum capacity to tackle large projects if necessary.
The SES320-600C combines high efficient oil processing and plenty of heating and vacuum capacity to perform a full spectrum transformer service tasks including evacuation and single pass vacuum filling.
Low speed direct drive oil pumps, direct drive booster pumps, carbon steel welded oil piping, stainless steel degas chamber and vacuum piping are just some of the features that insure many years of demanding mobile duty service.
The SES320 oil flow circuit features simple, single valve operation. Adjusting the flow rate is as simple as restricting the discharge valve. The discharge pressure is always constant, but also adjustable, if necessary, to meet demanding applications.
Automatic functions like level control and internal re-circulation eliminate the tedious adjustments required by many competitor's systems. Oil circulation rate is electronically panel adjustable, a feature not normally standard in a 600 GPH system.
After the job is complete, packing up is a breeze with the SES320 standard inlet and discharge "hose suck" feature.
The layout arrangement of the SES320-600C utilizes a convenient center aisle design. This not only provides space for operation, maintenance, and storage but also balances trailer weight distribution and center of gravity for better towing.
Fail-Safe User-Friendly Controls
The SES320-600C electrical system features fail-safe operator-friendly controls, IEC rated components,100% circuit breaker protection, and includes a complete complement of high-power instrumentation. System and vacuum pump hour meters are also standard!
Complete Instrumentation Package Available
Accuracy: Flow Rate & Totaling Meters
Control: Digital PID Temperture Controllers
Gauges: Local Pressure & Temperature Gauges Where You Need Them
Vacuum: Convection Full-Scale Digital Vacuum Gauges
Oil Quality: In-Line Moisture Monitors
Evacuation: In-Line Vacuum Line Dew Point Monitors
Oil Cleanliness: In-Line Contamination Monitors
Data Logging: Optional Process Data Logging
Mineral Oil
Natural Ester Fluids

Processing Rate

10 GPM / 600 GPH / 2280 LPH

De-rate processing rate and heating capacity by 25%

Dielectric Strength
(ASTM-D1816-84A)

(2 mm gap)

>65 kV

>60 kV

Moisture Content
Single pass

(ASTM-D1533-88)

100 ppm reduced to < 10 ppm
50 ppm reduced to < 5 ppm

200 ppm reduced to < 30 ppm

Moisture Content
3 Passes

(ASTM-D1533-88)

100 ppm reduced to < 2 ppm
200 ppm reduced to < 20 ppm

Total Gas Content
Single Pass
(ASTM-D2945)

Saturation reduced to < 0.25%

Saturation reduced to < 0.25%

Total Gas Content
3 Passes
(ASTM-D2945)
Saturation reduced to < 0.15%
Saturation reduced to < 0.15%

Particulate Content

99.9% > 1 micron
97.8% > 1/2 micron

99.8% > 1 micron

Processing Temperature
(Adjustable)

Min 120F° / 49C°
Max Limit 190F° / 88C°

Min 170F° / 76C°
Max Limit 190F° / 88C°

Processing Vacuum Level


1.5 torr – 0.3 torr

1.5 torr – 0.3 torr
Typically built to order, the SES320-600C and can be customized to any requirement
Standard Flow Circuit
Automatic internal recirculation – no valves to adjust
Automation degas chamber level control
Discharge pressure is automatically controlled and adjustable to 80 psi
Discharge adjustable from 0 – 100% of circulation rate
Built in hose suck back and drain capability
Oil Pumping System
Two pump systems. Inlet pump standard
Direct mount low speed positive displacement screw pumps
Viton mechanical seals
External relief valves
Electric Heating Systems
Low watt density heating does not degrade oil
(2) 32 Kw heater banks
Heater banks can be disabled at the control panel to reduce amperage requirement if necessary
Digital PID individual bank control scheme provides smooth accurate generator friendly operation
Oil flow and over temperature safety interlocks provided
Filtration System
Coarse inlet pump strainer provided
Dual ASME code filter housings provide two stage particulate filtration. 3 & 0.5 micron
Pleated synthetic media.
99.8% efficiency
Local dirty filter gauges standard
Automatic air bleed standard
Degasification System
Three stage dispersal system
Single pass performance
316 SS chamber shell and interior components
Automatic non-pilot operated level control system
Primary dispersing system
Transparent chamber cover on system
Safety high level overflow shutdown interlock switch
Low level warning switch
Fiber optic foam control system
Automatic vent
Vacuum System
Two stage system
System capacity is sized at 0.5 torr for 1.25X the maximum oil conditioning vapor load.
Vacuum system blank off pressure is < 0.05 torr
Vacuum systems can be isolated for dedicated transformer evacuation
304SS vacuum system piping
Vacuum booster pump inlet safety oil trap w/ shutdown interlock is provided.
Protects vacuum booster pump from chamber or transformer overflow
Rotary vane backing vacuum pump
Direct drive Roots style rotary lobe pump vacuum booster pump
Local Instrumentation
Inlet Suction Gauge
Inlet Temperature Gauge
Filter Inlet & Outlet Gauges
Dirty Filter Gauges
Chamber Manifold Vacuum Gauge
Discharge Pressure Gauge
Discharge Temperature Gauge
Flow Rate Meter
Dual Register Positive Displacement Flow Totaling Meter
Standard Instrumentation
Inlet Temperature
Inlet Suction
Chamber Vacuum
Aux Vacuum Line Vacuum
Outlet Pressure
Outlet Temperature
Inlet Temperature Control
Discharge Flow Rate
Discharge Flow Total
Electrical System
All control packages are built to NEMA and IEC specifications
Main Power Disconnect Breaker
100% Circuit Breaker Protection
IEC Motor Starters and Overload Protection
Circuit Breaker Protected Heater Contactors
Individually Controlled Banked Heaters
System Hour Meter
Vacuum Pump Hour Meter
Alarm Horn
Amp Meter
Phase Indicator
Standard Control System
A NEMA 4, push button and pilot operator interface is used to provide pump, heating system, and automatic valve control. Pumps, heaters, and automatic valves status by pilot lights. The system incorporates a 7" color operator interface for alarm annunciation, alarm logging, and troubleshooting. Data logging is optional. optional.
HMI Displayed Instrumentation:
Status & Control Displays:

All Motors
All Heater Banks
All Actuated Valve Positions
All Alarms
All Warnings
Oil Temperature Set Point

HMI Displayed Instrumentation:

Inlet Pressure
Outlet Oil Flow Rate
Outlet Out Total Gallons
Outlet Pressure
Degas Chamber Vacuum Level
External Vacuum Line Vacuum Level
Heater Outlet Temperature
Construction
Skid mounted with a recessed deck plate for drip collection.
System design facilitates easy access for maintenance and operation.
Piping

All oil piping is welded carbon steel w/ butt weld or socket fittings. All vapor and water piping is stainless steel with w/ but weld or socket weld fittings. Maintenance connections use bolted flanges or O-ring sealed unions. Threaded unions are not used. Threaded connections are kept to a minimum.

Instrumentation Tubing

Oil filled tubing is 1/4" carbon steel w/ carbon steel compression fittings.

Electrical Conduit

A combination of ridged and liquid tight flexible conduit is used to provide a water tight easy maintenance wiring system
Oil Pumping System
Inlet oil booster pump for evacuated transformer circulation
Filtration System
Dirty filter alarms
Oversized inlet housing
Vacuum System
Fail-safe external vacuum line actuated valve
Instrumentation
Remote Transformer Vacuum Gauge (760 torr – 0.01 torr)
Inlet Moisture & Temperature Monnitor
Outlet Moisture & Temperature Moitor
External Vacuum Line Dew Point Monitor
Control Package
The SES320-600C is a mobile cargo trailer mounted system
Built-to-order skid-mounted equipment can normally be built to meet customer footprint and access requirements. Consult SESCO with special requests.

All cargo trailers are specifically engineered to accommodate equipment load, weight distribution, to provide optimum towing conditions. Cargo trailer weight capacities (GVRW) range from 4,000 to 16,000 Lbs. SESCO will provide the cargo trailer size and weight capacity options available for the system being quoted.
SES320-600C Trailer Specification
Length

16' OAL
12' compartment length

Bumper Hitch
Cargo Trailer
Enclosed Tandem Axle Bumper Hitch
Width

90" OAW
72" Compartment width

Height

105" OAH
80" Interior height

Axles

Dual 7000 Lbs w/ Tor-flex suspension

Weight

GVRW 9500 Lbs
SES320-600C curb weight 6900 Lbs

Brakes
Construction

Steel tubular main beams
Aluminum roof
Steel diamond plate over Drymax subfloor
Aluminum sheet & post sidewalls
Lined interior sidewalls
DOT LED lighting
Radial tires w/ spare
(2) Full swing rear doors w/ double locking cams
(1) 28" x 78" Curbside entry door

Oil Connection Options
Vacuum Connection Options

Single rear door accessible

Steps

(2) Heavy duty aluminum step assemblies

Ventilation

(1) 16" 115V flush mount ventilation fan / intake louver assembly

LED Lighting

(2) Exterior flush wall mount flood
(2) Interior ceiling mount

120V/1PH Power

Load center circuit breaker controlled
(2) Exterior GFIC Outlets (1) 15 circuit
(3) Interior GFIC Outlets (1) 15 circuit
Trailer Dress Out Options
Heating

(1) Three phase 5 KW forced air heater w/ thermostat